In which we trace the notarial history and find that a big flag in the 1890's.
It turned out that the very next day was the last day in the National Archives month of October in which the Notarial Archives was giving a tour to the public.  We set off to the Notarial Archives downtown on the floor below the office of Mortgages and Conveyances we had spent so long in with those big books and were treated to a lovely tour of the small offices crammed full of great books of recordings going all the way back to the 1700's.
All notaries in Louisiana had to bind their documents in a big book  yearly and then keep them in their office until the 1960's when they all were gathered in one place to be kept for posterity.  Notaries would also keep the books of their predecessors (sometimes rushing into burning buildings to save them by throwing them out the window) and the more books they had the more fees they could collect by being asked to make true copies of them (before photocopies).
We saw some very cool documents: a document giving a slave liberty in the early 1800's, a marriage contract in French in the 1700's, a document from a ship's captain who lost his cargo due to storm and would come ashore and immediately rush to a notary to record things like piracy and storms to maintain it wasn't his fault and shouldn't be charged for his cargo… and a hell of a lot of conveyance of property documents.
Also housed here is the original Code Noir from 1685, Louis XIV, that defined the conditions of slavery in the French colonial empire including New Orleans (as well as mandating Roman Catholicism and kicking out all the Jews).
We were hoping to find one of these amazing documents for our house:
These were legal documents and architectural surveys but also served as advertisements to sell a featured house.  They are beautiful watercolor paintings and if you find one of your house you can order a copy which they will frame for you.
Alas, there was nothing for our address or the old version (710 Magazine).  Nor were there any Builders Plans registered for the whole block unfortunately, which would have been tremendously useful in the renovations 🙁
After the tour we knew what notary to start with in the 1912 sale from Levy to Grimm so we signed in, cleaned our hands with alcohol wipes (they don't use gloves when handling old documents as people tend to fumble and tear things) and asked to get out that notary's book.
Sep. 30, 1912:
Sure enough here it is and it lists the previous sale of the same property by Levy from Mrs. Albertine Lob in 1902 in front of Notary Charles Rosen.
And it was here we immediately discovered the error when the document was recorded upstairs in Conveyances.  There were two book and folio numbers: one for the deed transfer and one for the book of mortgages.  Whoever recorded it had taken the book number from one and the folio number from the other.  No wonder we never found it.
Another interesting thing to note – It was Mrs. Albertine Lob (Moise Waldhorn's wife) who sold it to Levy in 1902.  We'd find out why in a minute.
April 29, 1902:
So we took note of the notary who had done the sale in 1902, Charles Rosen, and the date, and requested Rosen's 1902 book, and here was the missing record:
It was sold for $6,900: $2,300 down and $4,600 in 3 notes.  But the odd thing is back then- people got (multiple) mortgages for like 2 or 3 years total.  There was no 30 year fixed!
From here we learned that Moise Waldhorn's wife was selling it because it was her property, undivided, which she had purchased from a relative, Charles Lob, in 1885.  (Turns out she's not the only woman owner of this property which makes me happy).
Charles' mother had bought it in 1884 from George Powell so we were about to set off to look up the Notary from that sale when we noticed something odd:
There was a strange blip in the tax history (last page of the pdf).   Just like today, people were concerned that all taxes had been paid on the property (as well as something called drainage fees, whatever that was) and there was an attached history of taxes shown as paid so there wouldn't be a lien on the property.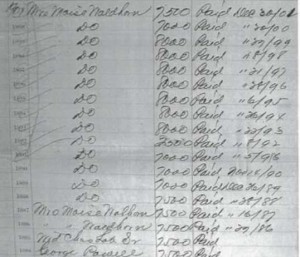 But something very strange must have occurred in 1892 because if you look at this tax history, it shows a list of values $7000, $7000, $7000 etc and then 1892: the $7000 was crossed out and replaced with $2500 and then up to $8000 in 1893.  Very strange.
The archivist was, by now, getting involved in our mysterious brick/non-brick, incorrectly recorded mystery house and was looking at these with us.  She pointed out that big jumps or falls in value often corresponded to additions or removals on the house, but something like this for one year might indicate something drastic, like a fire.
June 29, 1885:
We proceeded backwards to the next document from 1885 in the book of Notary Felix J. Dreyfous (still keeping it ethnically cohesive) in which Albertine buys the property from her relative Charles, whose late mother Babette Kern the widow of his late father Charles Lob Sr. had bought from George Powell the year before.
Sounds like Charles' widowed mother had bought the property in 1884, then died, left it to Charles who then sold it to Albertine.
She paid $7,500 for it for a down payment plus 3 yearly payments of $1,833.30 from her inheritance from her father Samuel and her late sister Augusta.
Also interesting: though Albertine is already married to Moise, it specifically calls out that though it is a community property state, this house remains Albertine's property alone, not her husband's.
Side note: I have been all over ancestry.com and it is really bugging me that I can find Albertine and Charles Lob separately but can't figure out how or if they were related!
March 8, 1884:
Again, before F.J. Dreyfous, this is where Babette Kern (Charles Lob's mother) bought it from George Powell for $8,150 ($1,000 cash and $7,150 in a note which was noted on this same doc as paid later that same year in August).
Not much else is interesting here, most of the doc describes the terms of the (very short) mortgage.  So we went on back to the next document before notary Castell from 1878.
April 6, 1878:
Here, George Powell bought the house at public auction from the estate of Mrs. Margaret McCauley wife of O'Brien (it is the Irish Channel) for $7,500.
It was here that we first saw the notation (in an attachment but also shown on the 1870 doc below) that the "buildings and improvements" comprised of a "Two Storey Brick Building" and also mentions that the sale includes all chandeliers, lights and fixtures.
So we had definitive confirmation that it was indeed a brick structure as the survey of 1883 showed.
May 23, 1870:
Here is where Mrs. McCauley O'Brien bought the property also at auction in 1870 for a crazy high amount of $14,700 and subject at the time to a $150/month lease.
Now there was either something incredibly amazing about that brick property (which made us kind of sad but we told ourselves that if it was still that amazing we wouldn't have been able to afford it) or there was some crazy shit happening with the real estate market of the post civil war New Orleans in the 1870's.  Because $14k back then is more than twice what the subsequent property would sell for for the next 60 years.
I can't find a good comparative value for the $ from 1878 but I'm pretty sure that was a metric shit-ton of money back then.
Regardless, here (on p. 2 of the pdf) it again refers to a 2 storey brick dwelling.
We went back a little further out of interest and looked at the previous sale which was, strangely, also for a ton of money (about $15,000 in the 1860's) and wondered idly about the real estate market of the time.  But we had found definitive proof that it was a different structure.
We wondered about the fixtures, the chandeliers, the sconces – could they be the same from the pre-existing structure?  Could they be significantly older than the house as it was now?
We had only that strange year of 1892 dip in taxes to go from and it was time for dinner…
Next up, we find the answer…