We agreed with all y'all making comments and decided to have at 'er last night. We went to home depot and bought a crowbar and started to pry it off:
At first we thought we might be in luck, plus we were having fun, because it'is always fun to break things. (All the little flakes that make it look like it's snowing in these pictures are the dust/plaster/asbestos that started flying around. So I insisted we put masks on to carry on).
The top row of paneling that brought it to that extra height came off relatively easily and behind it was plaster wall. Hooray!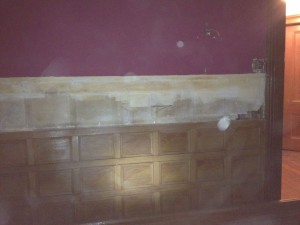 Then we started to pry off the stuff below and it got a lot harder. It wasn't coming off easily at all because despite having issues, it was put together the "hard" way, ie in separate pieces and tongue and grooved together, so it wouldn't come off in one piece. We started to look behind it and confirmed what we feared… no wall!
So we got more off but couldn't get the bottom off properly, it's really seriously attached behind the baseboard that we need to save. Once it was mostly off we discovered:
No leprechauns, bags of gold or dead bodies
No wall either
Some really dirty insulation (though not behind the outside wall siding we could see, just between this room and kitchen!)
More damn cast iron pipes
Some wiring on different circuits for no apparent reason
It was then we stepped back and realized that we had kind of broken our dining room: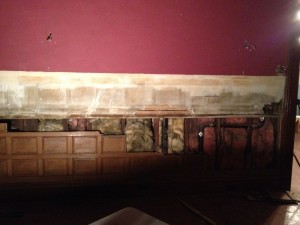 It wasn't until today during daylight, after asking the painters to please give us an estimate on all three options: Drywall, Plaster, Get a woodworker to install new baseboard, that we realized we have a bigger problem. That damn cast iron pipe, is cracked:
This would make at this point pretty much all cast iron pipes we've met so far cracked. And now we're quite worried about that big vertical drain pipe in the middle which we have to assume will crack eventually, but replacing that might very well mean a true world of hurt, and destruction of plaster all the way up as well as the floor of the ensuite bath upstairs.
On the plus side we are trying to view this as a true stroke up luck, because if we had not opened this wall up, we wouldn't have known about that cracked pipe. And who knows how long would have gone by, perhaps with an eventual unpleasant smell of sewage right behind our brand new dining room wall…though it might be a vent stack and thus not as big an issue.
That said – 90 degree bends, cracked cast iron, shitty plumbing job (pun intended)… it's a world of hurt and Dave is not pleased. We are calling a plumber to investigate our options immediately.