After much discussion we are seriously considering taking out the after-market oak wainscoting in the dining room:
It's taken the brunt of years without a/c and bows out in places. It also has a very suspicious ability when pushed back in to go further than where a wall woud be – almost as if it is hollow behind the wall to the kitchen:
This is a big risk though. No one knows what's behind this wainscotting and it could be a world of hurt as Dave frequently reminds me. And once we rip it off, we can't really put it back up. But if we're going to take the hit and deal with it many factors point to doing it now:
The wainscotting is damaged and isn't going to get any better
It's too tall, well over code and makes the room feel small and makes me have to look at wood at eye level
It doesn't match the wood of the rest of the house
We would like to move the sconces further out and we need to get into the wall somehow
We need to enlarge the light switch but whoever did the last one cut into a stud already so we can't cut further and need to move the switch over to do it right: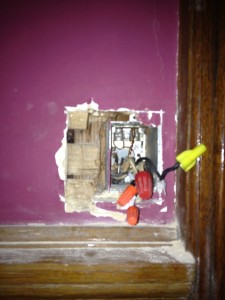 Most importantly: painters are about to paint/wallpaper in this room and if it's going might as well take it out so they can fix the plaster and/or wallpaper the full height of the room
The question is: do we have the balls to just rip the bandaid off now and see what's back there? If there's nothing behind there and we half-ass it and just drywall there'd be a seam – and then do you seam tape and wallpaper over it? Would it look like a big line around the dining room? Or do we plaster it from the floor?
Ed: I think we are decided and we are with the commenters – yes, it should go.  Hopefully this afternoon we will be in there with crowbars and I'll take some pictures and post here what we find.  How exciting!  Our first wall!  I thought about posting a poll: Do you think we will find:
– Leprechaun with pot of gold
– Body of Jimmy Hoffa
– And expensive hole in the wall
– Mouse poop
– A doorway to another dimension.
I'm hoping for option 5.