A few more clues…
At this point we knew that Moise Waldhorn owned it from 1890-1900 and sold it to Herman Levy after 1900.  We knew that George Powell had it in 1880.  But the troubling this was, we weren't sure it was the same house. So it was time to visit the Notarial Archives.
(To catch up on our story read parts 1+2 below).
David found the fabulous Robinson Survey, made available online through the Notarial Archives (the original kept there downtown) which shows a city wide survey gathered in the late 1870's and compiled in 1883.  (I guess these things took a while before photoshop and camera phones).
Here is the picture of our area, with our lots circled at the corner of Magazine (vertical) and Second St (horizontal):
The trouble is, there are two things we noticed which are a little strange:
The Pink buildings mean brick and Yellow means wood.  But our house is most definitively a Wood Structure built using huge cypress beams and wood shingles/siding.
The shape of our house isn't like that.  It's across both lots like this:
This is a little puzzling. We began to doubt whether our house was really all that old.
Note the addresses on the map (a little hard to read).  Our house at the corner is noted as 710 Magazine and at the time there was no 1024 2nd st (our separate carriage house address).  Also, note Mr. Sigmond Katz's building across the street; a fine brick building as well.  He'll come up again later.
So we looked up Mr. Moise Waldhorn and found that as a prominent member of New Orleans society in the late 19th century and early 20th there is a wealth of information about him online.
This is Mr. Waldhorn probably around 1900:
Here is a page on M. Waldhorn in the book about the Jewish Community in New Orleans
Then we also found him mentioned in another book (thanks Google Books!  How could one have done research before the internet?) about New Orleans Architecture in which he is mentioned as having owned this fine home on St. Charles from 1902 to 1919.  (The book also interestingly mentions what happens when people wreck fine old homes and how it looks now, but I'm sure it wasn't the Waldhorns that did that):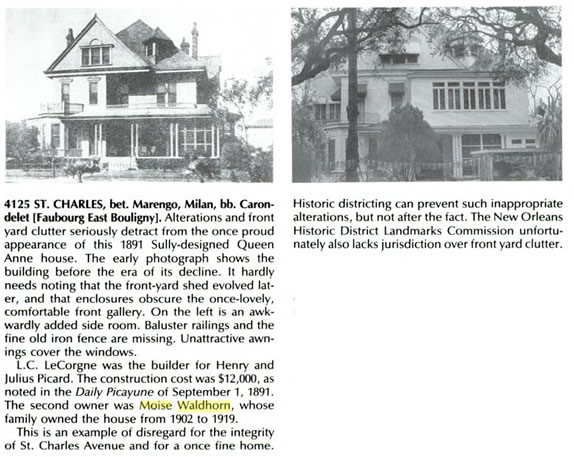 So it was clear that Moise Waldhorn owned our house in 1900 and in 1902 moved up in the world to a fine house on the Avenue so we were now looking for a sale in 1902 from Waldhorn to Levy.
Time to make a trip to the Notarial Archives…
—————————————
Aside:
Keep in mind, while we're doing all this research, we found a ton of other interesting nonsense that I couldn't begin to post here.  Genealogical research is really fascinating, and historic research in general, especially in a place full of fascinating stories like this.
We traced the Levy family back to the 1850's initially under the mistaken impression that they might have built the house, and found them with Herman Levy's grandfather down on Annunciation Street in the Irish Channel.  Which might be the house under dispute in the lawsuit of 1900.
We found a Caroline Reece in residence at 710 Magazine (the old address) back in 1866.
In 1881 Moise left Isaac Levi's Canal Street Loan Shop as a clerk to open his own shop.  The shop still stands today as Waldhorn and Adler Jewelry and his son Samuel created the silver trophy still used today for the Sugar Bowl.
The much discussed and to be discussed Sigmund Katz who lived across the street was listed in the 1880 census as occupation "Fancy Notions" at least that's what I think it says but I have no idea.
We found the Lobs and the Levy's and their relations up and down Magazine street and even the Notary used in many of the transactions we would later trace having built a fine house on Magazine street.
So much of this was all ethnic and neighborhood centric.  We're on the edge of the Irish Channel and the names and servants are mostly Irish, not just "I have an O' in my name and drink green beer loudly on St. Patricks day" type of Irish but these people were born in Ireland and came over here.  The German jews tended to live near each other, use a German notary and employ German immigrants as cooks and house girls.  And of course, the fabulous jew, Moise Waldhorn, lived up to stereotypes by being a jeweler and a lender.  But by the tone of the newspaper also a well respected and wealthy member of the community.  We read that it was he who discreetly helped a number of well to do Jewish families who had fallen on hard times after the Civil War back when a loan shop was not the pawn shop it is today but a primary means of lending for many people.
Good on him.  As a (half) German Jew myself I am pleased as punch and hope I can look after his house well.